You've heard the rumors. Now, as an OptoBlog subscriber, you can be first in line...
Coming next month: groov RIO®, a new family of intelligent, standalone, Ethernet-based, PoE-powered, remote I/O units for IIoT and automation applications.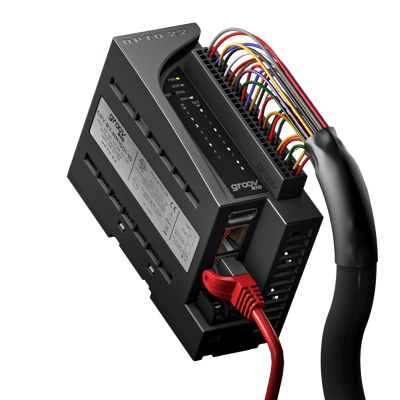 groov RIO is the next step in transforming the industry for the industrial internet of things (IIoT), extending connected applications directly to traditional wired sensors and switches. The first unit in the groov RIO family, GRV-R7-MM1001-10, provides 8 multi-signal, multifunction, software-configurable channels and 2 Form C relays, supporting over 52,000 unique signal combinations: analog or discrete, input or output.
Combined with Power-over-Ethernet (PoE) and embedded tools for configuration, data processing, and publishing, groov RIO makes connecting I/O to cloud IoT platforms, control systems, and databases easier than ever before.


It's never been this easy to go from I/O to IIoT
For buyers, specifiers, and installers
8 channels supporting 10 different signal types
2 Form C mechanical relays for normally open or closed circuits
Scaling, ramping, counting, totalization, and more
PoE or external DC input for unit power
PoE-powered outputs and self-wetting inputs
UL Hazardous Locations approved and ATEX compliant
Wide -20 to 70 °C operating temperature range
Dual, switched Gigabit Ethernet network interfaces
Compatible remote I/O for groov EPIC using PAC Project
Made in the U.S.A.
One part number to buy. One part number to stock
For automation engineers and developers
Completely software-configurable from any browser with groov Manage
Includes intelligent discrete and analog signal processing features
USB port for serial communications and external storage
Compatible slave I/O with any Modbus/TCP master
Efficient publish-subscribe communication with MQTT Sparkplug
Data processing, visualization, and web service transactions with Node-RED
Simple network discovery with support for DNS and DHCP
Supports star and daisy-chain topologies
Secure communication with SSL/TLS encryption and certification
Remote management with embedded OpenVPN client
No PLC required
Read the full press release for more details.


What will you do with groov RIO?
Whether you need simple, fast connection to a handful of I/O or large-scale IIoT-ready infrastructure, groov RIO has the flexibility to handle a wide range of applications.
For an interactive view of what groov RIO can do for you, take a look at our groov RIO Explorer.
GRV-R7-MM1001-10 is available now. Contact us for any pre-sales engineering assistance or request a quote today.
*This blog post has been updated since its original publish date.