With the latest firmware update, groov EPIC gets I/O for the IIoT and more
Out this week, groov EPIC firmware version 2.0 is a milestone for the platform, and there are more than a few reasons to consider updating. Here's an overview of what's included.
groov RIO remote I/O support
What's groov RIO? For those of you who've been head-down in a project for the last few months, groov RIO is Opto 22's new Ethernet-based edge I/O module. It offers 8 multi-signal, multifunction channels plus 2 Form C relays, all software-configurable, providing 61,260 unique I/O combinations in a standalone unit.
With firmware version 2.0, groov RIO can also act as remote I/O for the groov EPIC platform. From its initial release, groov EPIC has supported intelligent, distributed I/O processing through the field-proven SNAP I/O system. With the introduction of groov RIO, its reach goes even further.
groov RIO has a compact form factor, an industrial housing without a chassis or backplane, and can be powered over Ethernet. Together with unprecedented configurability, these features make it ideal for integrating remote and hard-to-reach equipment into a groov EPIC network. groov RIO modules can even execute up to four PID loops independently of the groov EPIC processor when used with PAC Control.
For PAC Control users, this update will bring your PAC Control runtime version to R10.3a. You'll want to download the new PAC Project Suite 10.3, also, which will allow you to configure groov RIO modules directly in PAC Control and use their tags in PAC Display. We took the opportunity to include a few security fixes as well.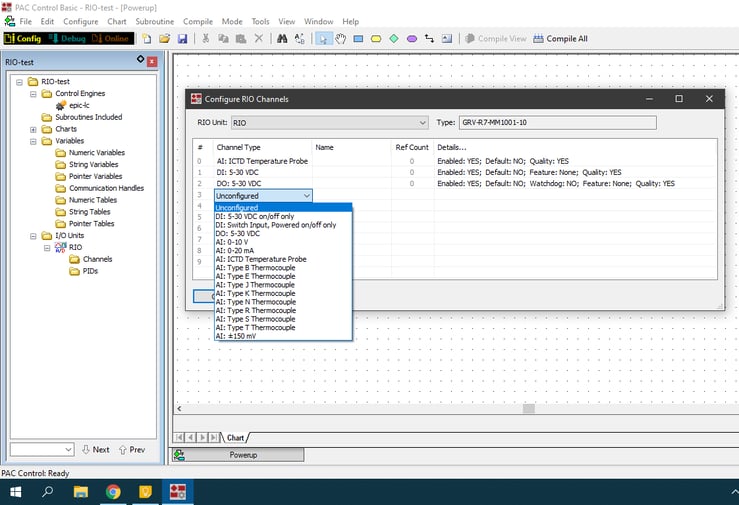 For CODESYS users, this update brings the CODESYS runtime engine up to version 3.5.15.10. To take advantage of these updates, you'll need to be running the CODESYS Development System v3.5 SP15 and the Opto 22 Library Package for CODESYS 2.0.0.0 (coming soon). You can actually use the updated library to add groov RIO modules to any CODESYS PLC with Ethernet. Give it a try!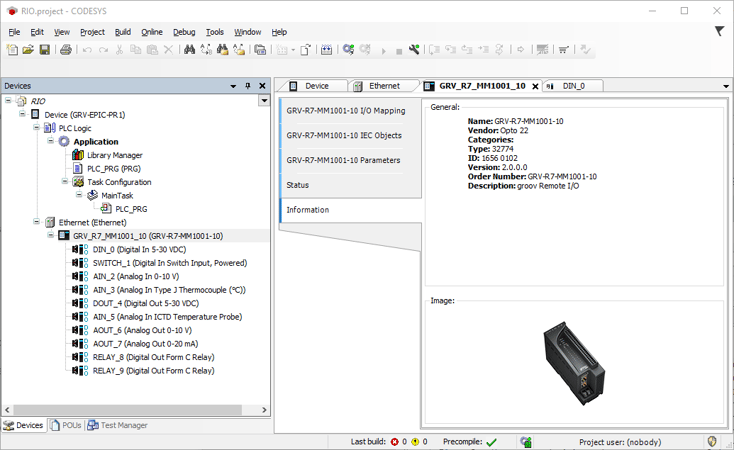 Both programming package updates let you configure each channel of a groov RIO module, independently, selecting from options for analog and discrete inputs or outputs. You might notice some slight interface changes to accommodate this awesome new capability.
The I/O reference in groov Manage has also been updated with wiring diagrams for groov RIO.
Ecosystem improvements
One of the advantages of edge programmable industrial controllers over traditional control solutions is their ability to host an ecosystem of complementary applications for control and connectivity. For groov EPIC 2.0, we made some improvements to several of these components.
groov EPIC's user authentication service now has better compatibility with groov View on mobile and desktop, and we resolved a few issues with password management and certain kinds of user account creation. Serial device detection is also more flexible. Previously, it might fail to detect serial devices connected to daisy-chained USB hubs or certain hubs that are daisy-chained internally. That's not an issue anymore.
More importantly, we made stability improvements to VPN and MQTT performance. We addressed a few issues that could cause the VPN client to fail, to prevent internet access, or to reflect an incorrect link status. And in certain circumstances, it was possible for the embedded MQTT service to interrupt tag publishing or to fail to connect to a broker after losing its connection once. Node-RED and Ignition MQTT clients weren't affected by these issues, but you'll have a better experience regardless of which you are using.
Third-party apps
Speaking of Ignition, we updated the core modules to version 7.9.13 and upgraded Cirrus Link MQTT modules to version 3.4.9.
Node-RED also gets a boost in this release with performance improvements through the updated Node.JS engine (10.16.3). We also bumped Node-RED itself to version 1.0.3, just because. 💓
Finally, to make it even easier to get started with MQTT on groov EPIC, we added the popular open-source Mosquitto MQTT broker to our cryptosigned repository. If you've requested shell access, you'll be able to install Mosquitto with a simple apt-get command.
Have fun!
If you want all the details from this firmware update, you can dig into the GRV-EPIC-PR1 Firmware readme.
Existing groov EPIC users can log into their MyOpto22 account now to get this update for free! If you aren't a user yet, now is the best time ever to try out groov EPIC.
And while you're at it, take a closer look at groov RIO. It's available now! Explore the options it provides or order your own now.