Sharpen your drawing tools. It's time to go to work.
Visualization for industrial automation is bigger than it's ever been, and it's not just about control anymore. As it becomes increasingly important to turn data into information efficiently and ubiquitously, visualization platforms deal with more data types, presentation formats, and a broader range of users and use cases. As always, Opto 22 gives you many tools so you can choose what fits your project best. Let's take a look at some of those options.
groov View: Quick, Easy, Mobile, Free
With groov View, anyone can design a professional HTML5-based user interface for groov EPIC applications, based 100% on current web technology and without additional license costs.
Oriented towards mobile devices, groov View works on any computer, tablet, or smartphone with a web browser, as well as through Opto 22's free app for iOS and Android.
Build natively for different screen sizes using a drag-and-drop interface and a palette of scalable gadgets. groov View screens are served directly from EPIC, can operate in kiosk mode, and can be set as the default app that launches when groov EPIC boots up.
Read, present, and write to data in groov I/O, groov RIO, PACs, and SNAP PAC I/O, Modbus devices, and OPC-UA Servers, including Ignition. Integrate directly with other software sources such as databases and Node-RED using groov View Data Stores.
Configure user accounts, groups, and access permissions to control event logging, email notifications, and page access. However, groov View is not a full SCADA or data historian and has technical limitations on features like trending.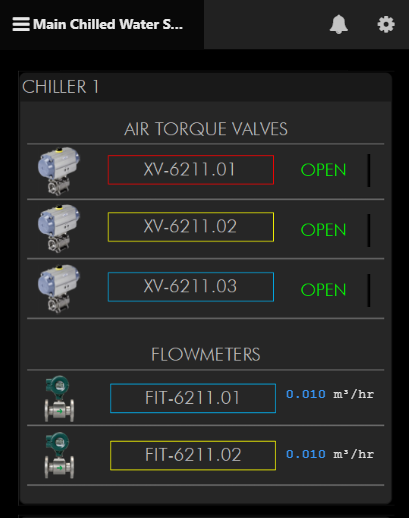 A mobile HMI screen built with groov View
Node-RED: Simple, data-driven mobile dashboards
Dashboard building in Node-RED cements it as a killer app for IIoT.
While not as easy as groov View's drag-and-drop gadgets, this low-code environment makes it as simple to present and interact with data visually as it does to collect it and connect it to valuable endpoints like databases and cloud services, all within the same platform.
With a little work, you can build the same features that groov View provides, like email notifications, and some that it does not, like historical trending.
Dashboard nodes are designed and maintained by the core Node-RED team and provide a comprehensive palette of configurable containers, buttons, gauges, sliders, tables, and so on.
These controls render as an HTML 5 webpage that is accessible with groov Manage credentials.
Like groov View, Node-RED dashboards are served up directly from your device, but they don't support features like kiosk mode and can't be displayed on the EPIC's touchscreen or external display. (Update: Now they can be with EPIC firmware 3.3.0 and higher!)
Since groov View isn't available on groov RIO modules, Node-RED has become a popular alternative.


PAC Display: Serious HMI for Windows users
Included as part of Opto 22's free PAC Project Basic engineering package, you can use PAC Display to develop full-function HMI displays for desktop computers using Microsoft Windows 10 (Professional).
Since PAC Display Runtime runs on a Windows computer, you can't build and deploy PAC Display screens to an EPIC and use its built-in touchscreen or external HDMI display. But if you're already using groov View, you can build complementary operator station screens in PAC Display that provide some of the features that groov View is missing, like historical trending.
PAC Display includes many of the critical features you need in an HMI like alarm history, logging, operator authentication, login security, and audible alerts. However, it can only read, write and display data from groov I/O, groov RIO, and SNAP PAC equipment, and cannot be used to directly connect to PLCs or hardware from other manufacturers.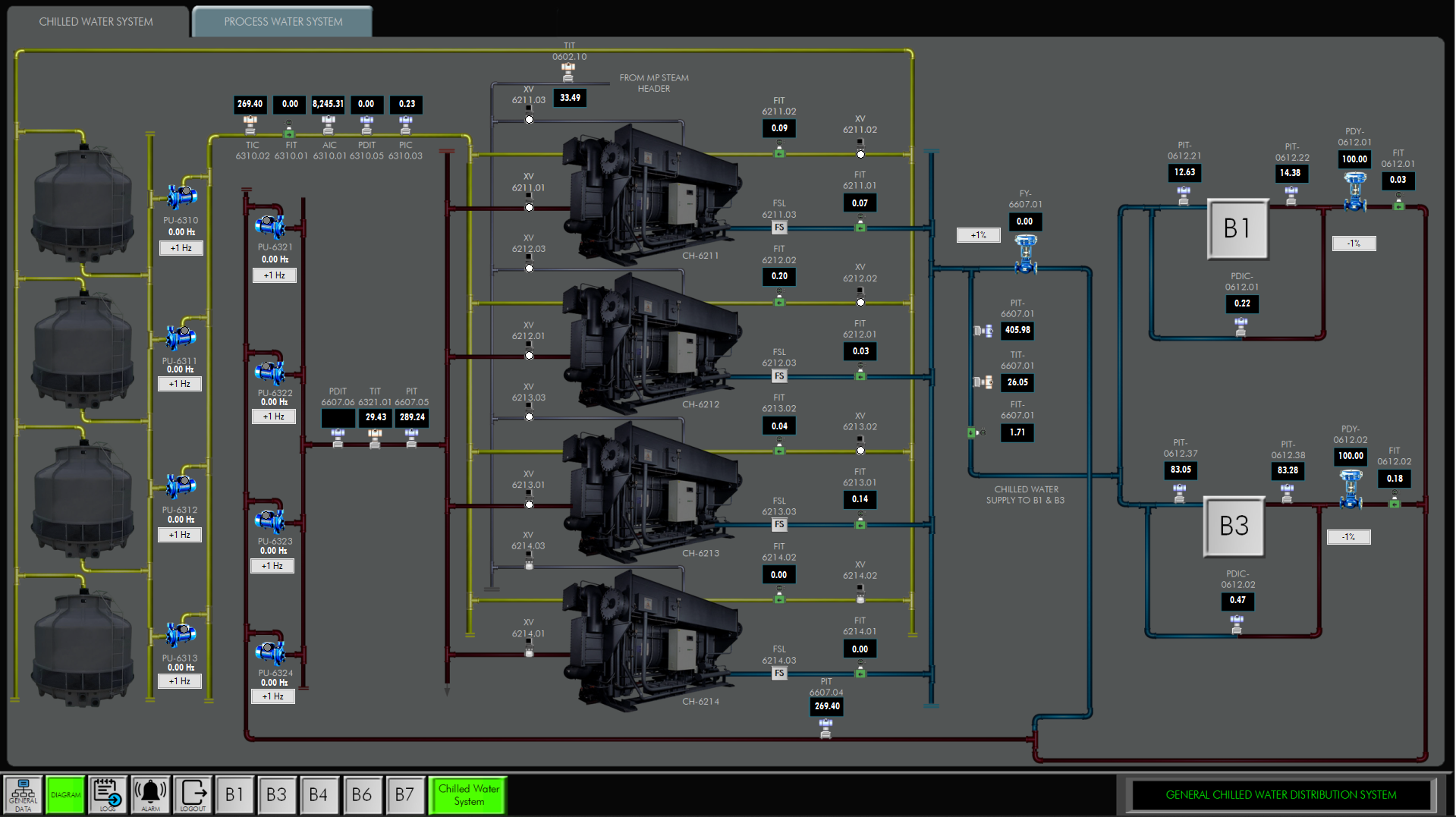 A utility management HMI built with PAC Display
Ignition Edge Panel: Standalone HMI for high-end SCADA/MES
Import or add tags to the Ignition Edge Gateway on your groov EPIC to connect data from PLCs and other industrial devices and OPC-UA Servers. Then define a display using the appropriate Ignition module for the client device you want to use:
"Vision" for a desktop computer or touchscreen panel PC
"Perspective" for a web browser or mobile device
Using Ignition Designer, you develop an HMI by selecting objects from a palette and associating them with tags in the Edge Gateway. It's easy to use and provides a powerful set of options, including trending for up to one week of data.
The best use case for Edge Panel is as part of a larger Ignition Gateway or MQTT network. If the connection to the central Ignition server is disrupted for any reason, local HMI clients will automatically failover to the Ignition server on groov EPIC.
Edge Panel licensing allows for one local client connection and one remote client connection, but the local option isn't applicable for EPIC, at the moment.
Since groov RIO MM2 runs Ignition Edge 8, Edge Panel also provides an HMI option for that device.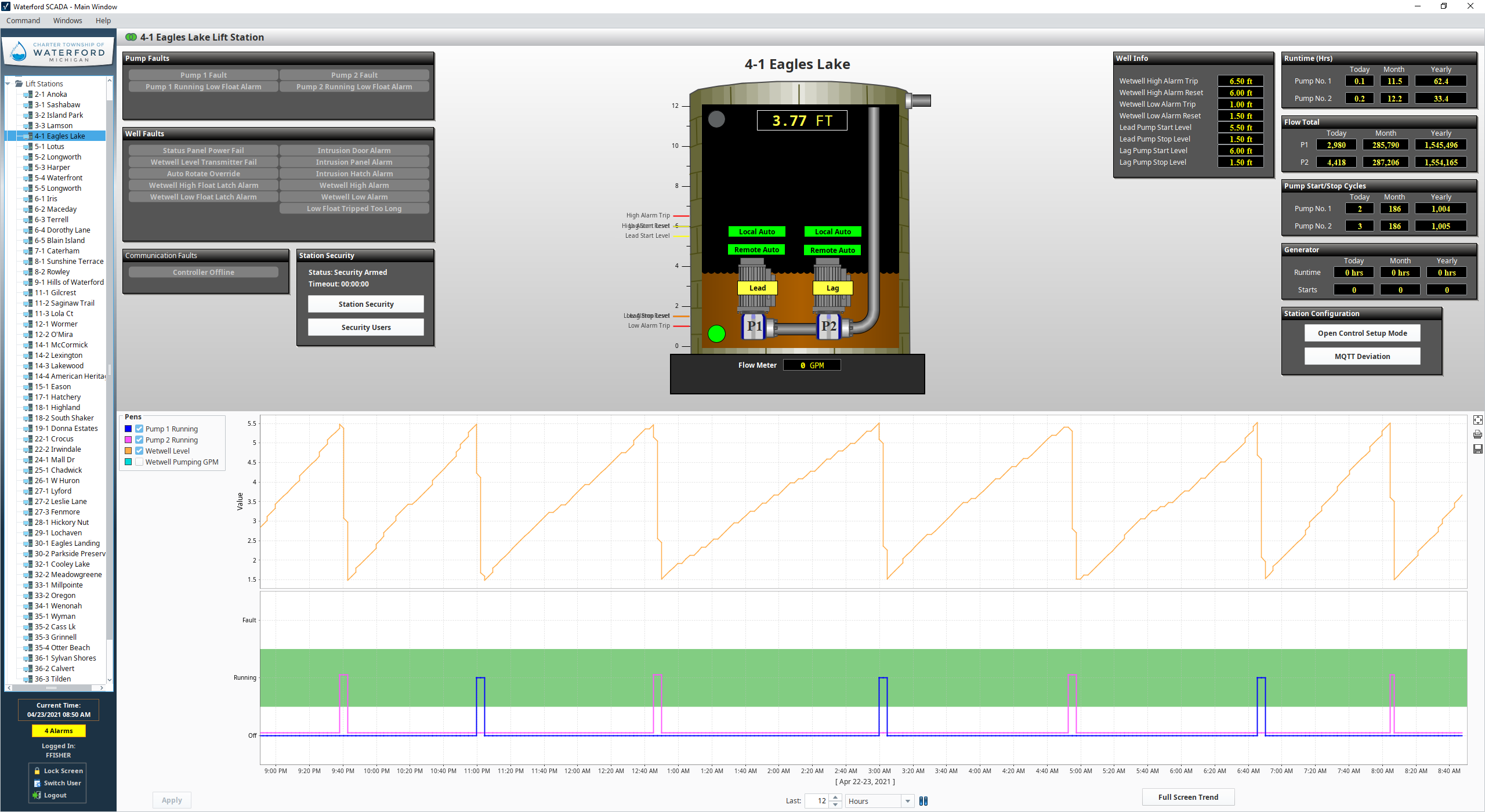 An operator station screen built with Ignition's Vision module
Ignition: SCADA at the edge
Finally, you can choose to install the full Ignition system locally on groov EPIC, creating a full-function SCADA for multiple users in larger plants and distributed manufacturing.
Add the OPC-UA Server and Opto22 PAC Driver modules for communication with the PAC Controller inside the local groov EPIC. Add communications drivers for other PLCs according to their protocols. In a full Ignition installation, there are no limitations on the number of connected devices.
Add the Vision module to create operator consoles for control rooms production areas and desktop computers. Add the Perspective module to create a web-based display project for industrial applications using mobile devices or standard web browsers. There are no limits on the number of clients that can access your displays.
Vision and Perspective projects do not currently run on the groov EPIC integrated touch-panel display or its external HDMI monitor, but they can work with any data connected to your Ignition server, like databases and MQTT clients.
Take your pick
Remember, if you only have a hammer, you don't really have a toolkit. Different projects and requirements need different tools. Different people need data displayed in different ways and on different platforms.
And if you aren't a fan of any of these options, that's okay too. groov devices will play nicely with your favorite visualization package like Grafana or with any existing DCS or SCADA you may be running.
--
Thanks to Optomation for providing the bulk of the content for this post. They know their groov devices backward and forward. Check them out if you are in southern Europe.