Almost everyone in the industrial automation, process control, and factory automation industries is concerned with keeping their equipment up and running.
Overall equipment effectiveness (OEE) is a key metric for understanding how the factory is performing. And part of keeping things running is keeping things communicating.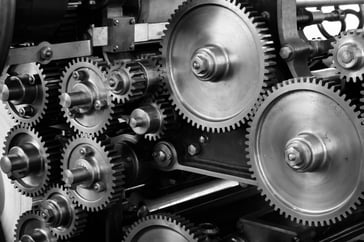 No matter what industrial field you work in, from process control, to factory automation, to dreaming up the next big Internet of Things application, you're bound to run into all different types of data cables and connectors.
Serial protocols like RS-232 and RS-485 have their specific connector types and cable pinouts, and Ethernet comes with its variety as well.
As the worlds of operational technology (OT) and information technology (IT) continue to collide, we're going to need a toolset that includes both OT and IT gadgetry, including a variety of cables and adapters to keep our systems running and communicating with each other.
But if you could only have a few cables and adapters in your kit for troubleshooting OT and IT problems to keep your equipment and line up and running, what would they be?
What's a must-have list of cables and connectors to make sure you're keeping your overall equipment effectiveness (OEE) as high as it can be?
Here's my must-have list for my field troubleshooting kit.
Serial Cables
When it comes to serial cables, I keep two types with me at all times, even when I sleep: a straight-through and a null-modem RJ45 to RJ45 cable. Why the two different types, you might ask? That has to do with the difference between DTE (data terminal equipment) devices and DCE (data carrier equipment) devices.
The big difference between the two types of devices is that on DTE devices the transmit line is an output signal and the receive line is an input signal. On a DCE device, it's the opposite. Which makes sense when you consider the history of serial networking.

Back when serial networking was first invente,d the great engineering minds of the time created two types of devices. The DTE type was usually a data terminal, and the DCE type was usually a device like a modem. The idea was to connect the terminals that displayed data to the modems that carried the data. You'd do this with a straight-through serial cable, which would allow your output TX line to connect to your input TX line.
Remember that with serial cabling, it's not just about what the signal is for, it's about the type of signal, input or output. Which brings us to our first cable.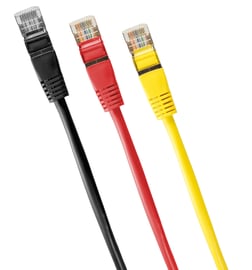 Straight-through RJ45 to RJ45 serial dable. Using an RJ45 cable like this keeps your tool bag light. With an RJ45 cable you can snap whatever type of serial adapter you need on either side to connect your devices together, be it DB9, DB25, whatever.
The pinout for a straight-through serial cable is pretty straightforward. Pin 1 goes to 1, 2 to 2, etc. Hence the name straight-through cable.

Null-modem RJ45 to RJ45 serial cable. A null-modem cable is good to keep around when you need to connect two DTE (data terminal equipment) devices together.
Remember that with serial cabling, you need to keep your input signals matched to your output signals. So when you connect two DTE devices together, you literally need to flip the signals of the cable. You might ask, why not just flip the signals inside the adapter you're going to snap onto the cable?

Simple answer is it's a lot easier to look at two clear RJ45 connectors to determine the cable's pinout than it is to snap open a DB25 or DB9 connector and inspect the tiny little wires inside to see how they pin out in the cable.

So a null-model RJ45 cable pinout is 1 to 8, 2 to 7, 3 to 6, 4 to 5, etc. all the way through the cable. This flips our input and output signals in the cable, which reduces the number of serial port adapters we need. Fewer serial adapters keeps our tool bag light. But we do need serial adapters.
Pro Tip: Use different colored RJ45 cables to quickly figure out which cable does what. For example, build your proprietary or nonstandard pinout cables in red, null-modem in yellow, and straight-through in black.
Serial adapters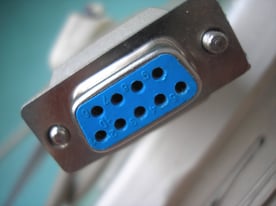 RJ45 to DB25. In my experience, few devices in the industrial space use a DB25 connector, but they do exist. Also carry a DB25 gender bender in case you run into something exotic.

RJ45 to DB9. Most industrial devices have a good old DB9 connector on them. They're usually pinned as a DTE connection. It's also a good idea to carry a DB9 gender bender as well, just in case.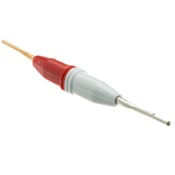 Pro Tip: Carry a couple of unpinned DB9 and DB25 adapters with you and get your hands on one of these tools (photo at right). You can pick them up from Allied Electronics. Working in the industrial space, you will without a doubt at some point run into nonstandard and/or proprietary cable pinouts, so carrying some unpinned adapters can save you a ton of time.
Ethernet Cables
The fieldbus wars have pretty much ended and—newsflash—Ethernet won. So it's probably a good idea to carry a standard straight-through Ethernet cable with you. I keep one in my laptop bag at all times.

But another important Ethernet cable to carry with you is a crossover cable. In my years as a field applications engineer, my crossover Ethernet cable was one of my most useful tools. A crossover cable is required when connecting two Ethernet nodes, like two PCs, directly to each other.
Today's computers have something called auto MDI/MDIX built into them, which will actually flip the transmit and receive lines in the NIC automatically for you. But a lot of legacy Ethernet devices and industrial Ethernet devices in general don't offer this feature. Hence the need for a crossover cable.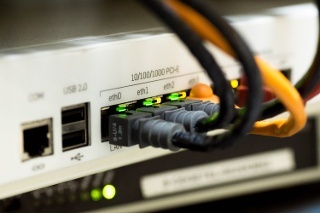 A crossover cable is also a great way to isolate your computer and the device you're working on from the rest of the network. This can be a huge help when you're trying to troubleshoot your device or the software you're using to communicate with the device.
The crossover cable limits network traffic to just your PC and your device. If you're taking network traces and trying to sort through the traffic, reducing the number of packets you have to look at by isolating your PC and device with a crossover cable can save you a ton of time.
I recommend you get one that's not blue, so it's easy for you to tell it apart from a standard Ethernet cable.

That's our must-have list of cables and connectors to keep in your bag at all times. Leave your must-have tools and cables in the comments below.
Want to check out our list of must-have tools for your panel shop? See Tools every panel shop, electrician, and maker should have.