Meet our latest line up of modules designed to give you more I/O choices for your groov EPIC system.
Along with the recent news of including IEC 61131-3 programming options for groov EPIC, there are 5 new I/O modules being added to the groov EPIC product line. Learn more about each module to see what new capabilities can help with your applications.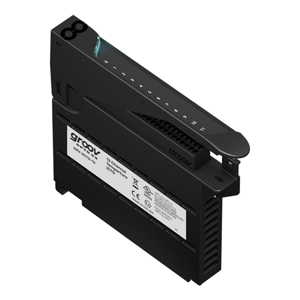 GRV-IICTD-12
Collects temperature input data from any industry-standard Integrated Circuit Temperature Device (ICTD) and has 12 channels of input.
GRV-IDCIFQ-12
This module senses the on or off status for 2.5–30 VDC input devices such as proximity switches, push buttons, and auxiliary contacts. The module's 12 high-speed, isolated digital input channels are capable of measuring frequencies up to 200 kHz when wired for basic counting.
GRV-IMAI-8
Provides channel-to-channel isolation on its 8 channels of analog current input with an input range of 0 to 20 mA and 4 to 20 mA. Each channel can be powered by an internally isolated loop supply or from an externally connected loop supply. Ranges are software configurable.
And coming soon....
GRV-OVMAILP-8
Provides channel-to-channel isolation, and each range has 4096 counts (12 bits) of resolution. This analog output module has 8 channels, individually configurable for any one of five voltage or current output ranges.
GRV-ITR-12
With 12 channels of analog to digital conversion that convert resistance to temperature or to Ohms, this is ideal for NTC thermistors commonly used in HVAC, refrigeration, and process control applications. It may also be used with PTC thermistors in resistance sensing applications.
More about groov I/O
Remember, groov I/O modules are hot swappable (which means they can be installed or removed without turning off the unit or stopping the process) and self-identifying—as soon as you mount the module to the chassis, it communicates to the processor and identifies itself.
Each groov I/O module cover provides a large module LED to indicate module health at a glance, and most are guaranteed for life.
You'll find detailed module specification charts and links to data sheets on the product pages referenced above. Let us know what you think or what other types of I/O you're looking for. Your feedback is appreciated as we continue to expand the groov EPIC system!