Updated technical note includes tips and design advice for ensuring optimal performance on all devices using PAC Project software.
If you've been keeping up with your OptoBlog posts, you saw last week's news about an available update for the PAC Project Software Suite, version 10.4. If you haven't already, make sure you download it to take advantage of the new features, enhancements, and important fixes included in this update.
But now we have more good news! Whether you're a new user or very experienced with PAC Project and PAC Control programming, you'll want to spend some time reviewing our latest updated tech note: Optimizing PAC Project System Performance (form 1776).
This technical guide can help you with your initial design or give you ideas for making your current system even better. It covers PAC Project running on groov EPIC®, SoftPAC, and SNAP PAC controllers. It also covers groov RIO® and SNAP I/O units.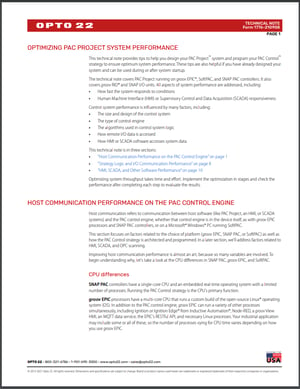 You'll learn how control system performance is influenced by many factors, including:
System size and design
Controller and CPU type
Algorithms used in control system logic
Methods of accessing remote I/O data
Ways that HMI and SCADA software access system data
You'll find information and tips for improving performance in:
PAC Control Engine host communication
Strategy logic and I/O communication
Communication with HMI, SCADA, and other software
Download your copy and start optimizing your system. We suggest implementing changes in stages and checking performance after completing each step to evaluate the results.
And remember, our team of engineers is here to help! Questions? Contact our product support team, start an OptoChat, or drop a line in the comment section below.