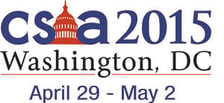 Join us for the CSIA Executive Conference, April 29 through May 3 in Washington, D.C.
At this annual conference you'll get practical workshops on every aspect of a system integrator's business.
Plus you can network with other integrators and explore at the Expo, where over 60 industry suppliers, manufacturers, and service providers will demonstrate the latest in automation.
How fast can you build a mobile app for your systems? Come see us demonstrate groov and find out on April 30th at the Expo.
Share and learn practical strategies at the CSIA Conference for everything about your business:
Effective proposals
Approaches to system upgrades and migration
Business planning
Digital marketing
Changes in employee law
Working internationally
We'll see you at the CSIA Conference.
---
OptoNews April 1, 2015 - Read more in this issue: