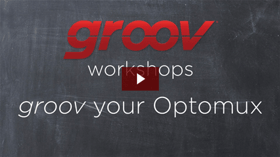 And the answer is: YES
I know it sounds like an April Fool's joke, but it's really true: you can build a groov mobile interface for your older Optomux system.
So you can monitor and control it from your smartphone or tablet.
It works in spite of the fact that Optomux has been around since 1982, while groov is all about today.
Here's what you need:
groov Box or groov Server (version 2.3 or higher)
computer with a modern web browser, to build the groov app
just about any smartphone, tablet, laptop, or computer, to use it on
This marriage of old and new technology works because of open standards: in this case, Modbus and Ethernet.
E1 and E2 brains have an Ethernet connection and can talk Modbus/TCP (which is the Modbus protocol over Ethernet). E1s and E2s are drop-in replacements for the older B1 and B2 Optomux brains.
groov communicates with any Modbus/TCP device—including an E1 or E2 I/O unit.
Details of how to configure your I/O unit in groov and build a simple interface are in our latest groov How-to video: groov your Optomux.
---
OptoNews April 1, 2015 - Read more in this issue: