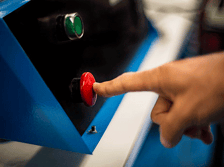 Just released: the free groov R3.0c update.
This update improves security and performance and adds an enhancement to the Momentary Button gadget.
Security and Performance. We're always looking for ways to improve product performance, and providing the best possible security is a top priority.
If you follow security issues, you'll be glad to know that this release replaces the sha1 digest in groov Server's pre-installed SSL certificate signature. (Note: If you have a groov Box, make sure you've installed groov Admin 42, which made the same improvement.)
The R3.0c update also uses the most recent cyphers expected by the latest versions of web browsers.
Momentary Button. Now you can detect a communications failure while a momentary button is being pushed, and create a failsafe if communications are lost. Here's how it works.
The Momentary Button gadget in your groov mobile operator interface acts like a normally open button. It writes a value once when you press it and another value when you release it. You might use one of these buttons to drive a motor that raises and lowers a crane, for example, or to start and stop a drill.
If the button is linked to a digital tag, the Press Value is set as True or False, and the Release Value is the opposite state.
But for integers and floats, you set both the Press Value and the Release Value. And with the new enhancement, you have the option to also set a Toggle Value. If a Toggle Value is set, the button behaves differently. When you press it, it alternately writes the Press Value and the Toggle Value once per second. (The Press Value is always written first.) When you release the button, the Release Value is written.
Because of these alternate writes, a Toggle Value can help you detect a communication failure. Use controller logic to detect the failure while the button is being pressed, and add logic to implement a failsafe if needed.
Get your groov R3.0c update now
To get your free update for either a groov Box or a groov Server, follow these steps:

Go to manage.groov.com and log in with your MyOpto22 username and password.
Find your groov in the list and click Show in the Details column.
In the Download column, click the filename that has R3.0c in the middle. (It will be the top or second item in the list.)
Save the file to your computer and follow instructions in the groov Server User's Guide or the groov Box User's Guide to install it.
Questions? Contact Opto 22 Product Support.