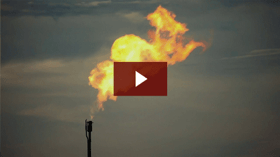 Seen from space, light from waste flare gas in the Bakken oil fields of North Dakota is nearly as bright as all the lights from the city of Chicago.
That's a lot of energy going up in smoke.
That's a waste of resources, says Pioneer Energy President Dr. Robert Zubrin.
In this new case study video, Dr. Zubrin explains how Pioneer Energy is turning that waste gas into usable, saleable resources.
With a unique truck-mounted system, Pioneer takes the process onsite. The truck can go wherever the need is. The system stays in place as long as required, and then is moved on to the next site.
Meanwhile, technicians in Pioneer Energy's remote central station reliably monitor and control the onsite systems.
Learn more about Pioneer Energy's process and the SNAP PAC System that controls it in the Pioneer Energy case study video.
---
OptoNews June 17, 2015 - Read more in this issue: