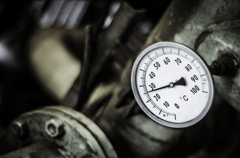 Do you monitor temperatures?
A lot of control engineers do, especially in fields like water treatment, refrigeration, thermoforming, refining, food processing, and energy or building management.
There are a variety of temperature sensors on the market—ICTDs, thermocouples, RTDs, thermistors, infrared sensors. Accuracy, cost, wiring complexity, and environmental conditions are some of the factors that determine which one is best for your application.
Here's a short white paper that helps you choose the type of temperature sensor you need.
Connect sensors to I/O
To connect temperature sensors to your system, you also have good choices in SNAP I/O analog input modules.
Each module has 2, 4, or 8 channels. Each channel can be individually configured. The higher the density, the lower the per-channel cost.
(By the way, did you see Ben's blog post on monitoring temperatures in a water heater? He measured three states with one thermocouple input—without even knowing the thermocouple type!)
Use your brain
The real key to easier temperature monitoring, though, is the SNAP PAC brain. The brain automatically performs calculations at the I/O level that would otherwise take up controller resources. You don't even have to program these functions:
Measurement-unit-to-temperature conversion
Cold junction compensation
Thermocouple linearization
The brain also has PID loop control built in: up to 96 PID loops per brain can run at the local level. That means your loop continues to work even if communication to the controller is lost.
So if you're monitoring temperatures for processes, environmental conditions, safety, or facility or energy management, be sure to take a look at SNAP I/O.
Here's the I/O Solutions for Temperature Monitoring white paper to get you started.
---
OptoNews June 17, 2015 - Read more in this issue: