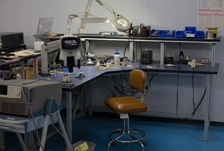 For this tech tip we go to a recent blog post that takes a good look at the basic tools you need if you're a technician, an electrician, or a maker.
From oscilloscope to pliers to power supplies, these are the tools we find essential.
Get suggestions on what quality you need, what features to look for, and where to buy them, new or used.
What tools do you have in your shop? See if yours differ from ours, and add your suggestions in the comments.
Read Tools Every Panel Shop, Electrician, and Maker Should Have.