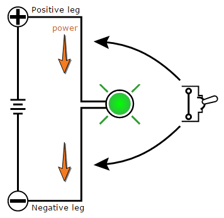 We talked about sinking and sourcing in a previous OptoNews tech tip.
But it's a subject that causes a lot of confusion, so it's worth revisiting.
Sinking and sourcing basically refer to the two methods of wiring a digital DC circuit.
Do you put the switch on the positive leg of the circuit, or on the negative leg? In many cases, either will work. So why would you choose one rather than the other?
To make our answer more complete, Application Engineer Ben Orchard gets into a little history and the practical considerations controls technicians often face. These practical considerations very often make the choice for you.
Read Ben's blog post for more.