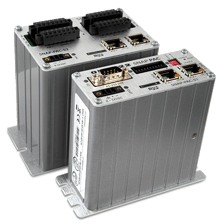 Last OptoNews you heard about all the new features in PAC Project 9.5 and SNAP PAC firmware 9.5, both just released.
The most exciting new features are the HTTP/HTTPS server and RESTful API, giving you secure access to I/O point and variable data in your PAC controller.
These developer- and IoT-ready features are free—all you need to do is update your firmware.
But updating PAC controller firmware on a running system can pose a problem. Updating firmware erases battery-backed data in the controller, including persistent variables and variables initialized on strategy download.
Now here's a free utility to make updates easier, by saving tag values to a file so you can restore them after updating.
So before you update firmware, archive your strategy and use OptoTagPreserve to archive these tags to your computer. You can archive to a binary file (which you can password-protect) or to a plain-text XML, OptoScript, or init.txt file.
Once the firmware update is complete, you download the strategy to the controller and restore tag values from the archive file. Then run the strategy. (Make sure the strategy is stopped before restoring tag values. If the strategy is running, unexpectedly changing values can cause unpredictable results.)
Opto 22's Benson Hougland updated his controllers this week. Here's his new blog post that walks you through the whole process of archiving, updating firmware, and restoring.
Notes:
The OptoTagPreserve utility is compatible with all SNAP PAC controllers (R-series, S-series, and SoftPAC).
The utility requires .NET Framework 4.0.
See the OptoTagPreserve Technical Note (also included in the download) for complete information on using the utility.