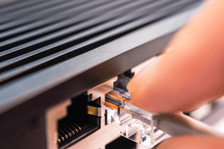 When you're troubleshooting a network communications problem, it's often best to start from the bottom and work up.
Opto 22 engineer Matt Newton shows you how in his recent blog post about the TCP/IP Model:­ Troubleshooting the Link Layer.
Ethernet networks are no longer a surprise in automation. And with the Internet of Things (IoT), we'll see increasing communication among devices, systems, and people, using Internet technologies.
As an automation professional you'll need to know how to solve network communication issues and the basics of Ethernet networking. Why not start now?
Matt's blog post explains the 4 layers involved in this kind of communication and shows you how to find and resolve problems at the bottom layer: the Link layer.
Read the Link layer blog post.