Following the recent groov EPIC 3.4 firmware update, groov RIO offers similar updates in its 3.4 release.
Here are some exciting additions in the latest groov RIO 3.4 package. All these new features are available in all groov RIO models: MM1, MM2 and RIO EMU.
The biggest news is the embedded OPC UA server. This is a first of its kind: a fully functioning OPC UA server option for a remote, Ethernet-based input/output module.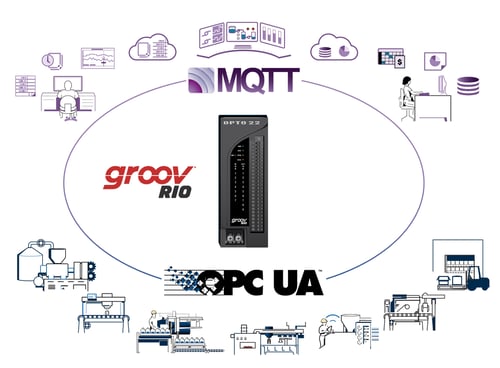 groov RIO now offers this familiar, platform-independent way to exchange its I/O and Scratch Pad data with devices and software within your OT network. You can smoothly integrate your I/O tags into SCADA and HMI software using OPC UA—no special drivers required.
And there's more good news...
Expanded MQTT options give you more menu choices for MQTT and Sparkplug configurations. This added support allows MQTT strings to be published to one broker and Sparkplug B to another. It's also worth noting that the MQTT page has been renamed Data Services in this latest release; you configure both MQTT and OPC UA in Data Services.
Some additional new features to know about:
Port redirection from VPN or WiFi to Ethernet (To be clear, RIO is still a two-port Ethernet switch.)
SNMP support
OptoMMP Scratch Pad support for MQTT and OPC UA
Updated CA root certificates
Java JDK update to version 8.0.332
Node-RED update to version 2.2.2 (See Terry's blog about what's new)
New option to download all status and configuration files in one download
For the RIO-MM2, Ignition and module version updates
For the RIO-MM2, increased Ignition RAM to 512 MB
Improved certificate information on groov Manage page
More component information in the About page
Details on noteworthy fixes included in this release are in the groov RIO Firmware Release Notes.
Finally, due to global supply chain issues, we have had to change the internal hardware of the RIO family. Fit, form, and function are exactly the same. The different hardware simply requires a minimum firmware version, because the new firmware contains new drivers. If needed, the minimum firmware required will be shown on the About page.
We encourage you to update now and enjoy these new features! Remember, each groov RIO model has a product-specific 3.4 firmware update. You can find them here: