Attendees learned how to build a complete IIoT infrastructure for improved efficiency and real-time analytics.
The Opto 22 Road Crew was in Tulsa, Oklahoma last month to take part in another Ignition Discovery Day. These are one-day seminars hosted by Inductive Automation® that show the unique capabilities of the Ignition Edge® platform, and how it offers the automation industry a new architecture for collecting and analyzing data.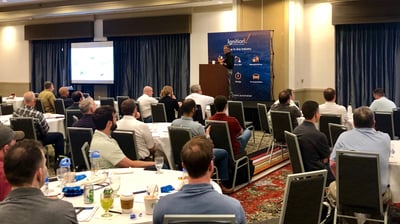 Opto 22's Benson Hougland, one of the guest speakers, spoke about the power of edge computing to unleash the data at the edge of your network. He demonstrated how the groov EPIC system with Ignition Edge onboard—plus MQTT and Sparkplug—helps you simplify, secure, and maintain your automation systems without sacrificing performance.
Interested in viewing the presentation? Download your copy and learn how groov EPIC and Ignition can help you with your IIoT and digital transformation projects.
Ready to get started? Our pre-sales engineering team is here to answer your questions and help with your applications.
Email: systemseng@opto22.com or call 951-695-3000