Hey, Opto squad! Buckle up because we're about to embark on another exhilarating tech ride, this time alongside our innovative partners at Snowflake. Remember the electrifying vibes from the Ignition Community Conference (ICC) 2023? Well, the sparks haven't stopped flying.
A Frosty Alliance Warms Up the Industry
Our alliance with Snowflake isn't just a partnership; it's a fusion of expertise and technology that's propelling all of us into the next dimension of Industry 4.0. Snowflake's prowess in accelerating your Industry 4.0 journey—combined with Opto's relentless pursuit of cutting-edge hardware solutions—is crafting a future where your data isn't just collected, but transformed into informed strategic planning and decision-making.

Igniting Innovations at ICC
Snowflake didn't merely attend ICC—they brought a blizzard of innovations showcasing how to seamlessly ingest OT data from manufacturing facilities to the cloud with zero coding, visualize crucial manufacturing KPIs, and implement AI-ML-based anomaly detection in real time. The demo was a vivid display, and trust me, it was nothing short of a tech spectacle!


Spotlight on Pugal Janakiraman
A shout out to the maestro of manufacturing solutions, Pugal Janakiraman, Industry Field CTO - Manufacturing at Snowflake. With two decades of experience working with top-tier companies across various sectors, Pugal doesn't just understand the intricacies of Digital Transformation initiatives; he orchestrates them into symphonies of success. His Exhibitor Demo session alongside Travis Cox and Arlen Nipper was a deep dive into how Snowflake, Inductive Automation, and Cirrus Link have intertwined their technologies to give you the data insights you need with Ignition UDTs, MQTT, and Sparkplug. And yes, it all runs right on your groov EPIC!



groov EPIC: The Bridge to Snowflake's Cloud
At their booth, Snowflake showcased something spectacular: our groov EPIC system demonstrating a smooth and secure data journey from an AB MicroLogix PLC to Snowflake's cloud database. It was a live testament to how the segmented network interfaces on groov EPIC can transform unsecured PLC data on the plant floor into a vault of secure, cloud-based insights.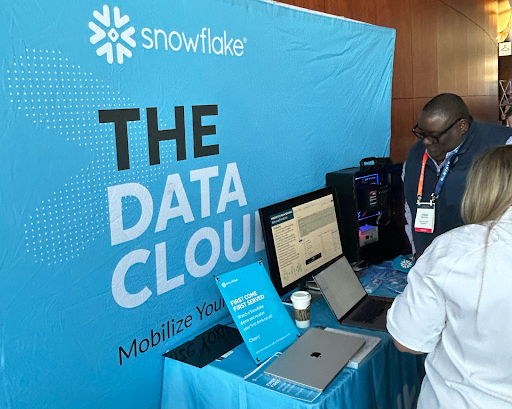 Conclusion
As we reflect on this alliance and the innovations showcased at ICC, it's evident that the future of industrial automation and data management is not just secure; it's boundlessly promising. Here's to Opto 22, Snowflake, and to all of you—the pioneers, innovators, and trailblazers of the industry. Onward and upward, to the exciting horizons ahead in automation.