OptoPartner video from Enginuity features IIoT based technologies
Many automation systems integrators are expanding beyond what we might consider "traditional" skill sets into technologies that may typically be the purview of IT professionals or software developers. While instrumentation, controls and SCADA obviously play a critical role in digital transformation, bridging the gap between OT and IT can require additional tools like Node-RED, REST APIs, databases, pub-sub communication protocols and Linux Shell programming chops.
Going forward, what exactly does an automation system integrator that embrace
s these technologies look like? Perhaps a bit like Nathan Field, Robotics & Automation Manager at
Enginuity, Inc
.
In the latest installment of our OptoPartner Video series Nathan shares a few applications designed to monitor machine health using the groov platform. The much talked about predictive maintenance is certainly one of the primary use cases for IIoT. When it comes to data, It's interesting to hear how he points out that with older machines there often isn't any budget to or need to replace them, so the groov RIO allows him to do "the next best thing".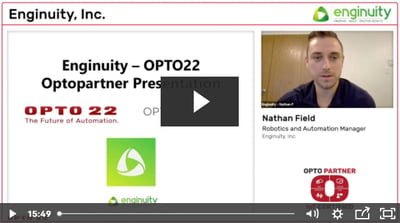 What else am I missing? Leave a comment below on what skills and tools you'd like to see in an IIoT focused automation systems integrator!