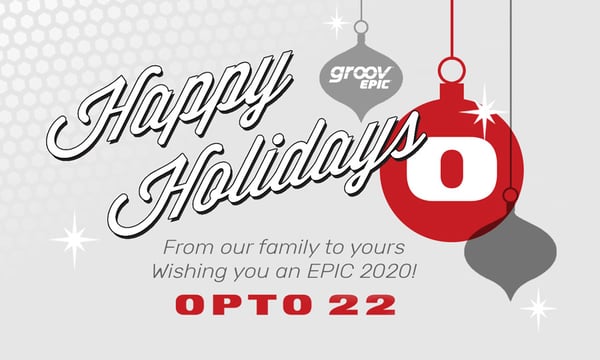 The end of 2019 is quickly approaching, and the Opto 22 team is once again preparing for the holidays.
As we look back on 2019, it was another EPIC year that included exciting new features and changes for the groov EPIC system. Here's a recap of some of the highlights and our upcoming holiday schedule.
We want to thank you for your continued support of Opto 22 products. Our customer service and engineering teams are committed to providing you with the high level of service and quality product solutions you've come to expect from
Opto 22. We're eager to hear about the projects and applications you have planned for 2020, and are ready to help you succeed.
As we do each year, we'll be taking a few extra days around the holiday to spend with our families. So please review the following schedule for placing orders and making any calls to our sales and support teams.
Here's our holiday schedule for 2019:
Monday, Dec. 23 - Open
Tuesday, Dec 24 - Closed
Wednesday, Dec 25 - Closed
Thursday, Dec 26 - Open
Friday, Dec 27 - Open
Monday, Dec 30 - Open, Last shipping day for 2019!
Tuesday, Dec 31 - Closed
Wednesday, Jan 1, 2020 - Closed
Thursday, Jan 2 - Open, Shipping resumes.
Thank you for your business!
Happy holidays to you and yours!
The Opto 22 Family