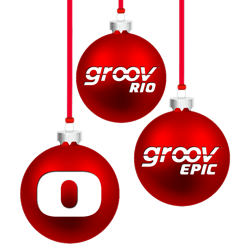 The end of 2020 is quickly approaching, and for many it's probably a welcome relief.
As we reflect on an unusual year, we want to convey our deepest appreciation to all our customers, distributors, partners, and loyal Opto users. We are grateful for your support and commitment to Opto 22 products. Despite the challenges of 2020, we're dedicated to serving you.
Like many businesses this year, Opto 22 adapted to a new structure and service model. Although you couldn't come for in-person visits or training classes, many of you received prompt technical consulting and product demos through virtual conferencing tools. You've also taken advantage of free OptoU online training, with new content added every week. The new OptoChat feature on our website has helped answer your questions. And have you visited the OptoForums lately? It's a great resource, whether you're new to Opto 22 products or have used them for decades.
2020 introduced groov RIO® and the concept of I/O for the IIoT. Judging by your response, this new edge product is on the way to revolutionizing remote I/O. And the latest RIO 3.0.1 update brings you even more important new features—like LDAP, PID, and Secure Shell, to name a few. In case you missed it, this RIO blog post will give you all the v3.0.1 details.
It was also a good year for groov EPIC. Opto engineers have worked hard to expand the product features available on this edge programmable industrial controller. See what we added to EPIC 3.0. And it won't stop there. Stay tuned for lots of new hardware and features being unveiled in 2021!
But most importantly, we'd like to take this time to wish you a safe and healthy holiday season. As we do each year, we'll be taking a few extra days around the holidays to spend with our families. Check the following schedule for placing orders and making calls to our sales and support teams:
Thursday, December 24 - Closed
Friday, December 25 - Closed
Monday, December 28 - Open
Tuesday, December 29 - Open
Wednesday, December 30 - Open; last shipping day of 2020
Thursday, December 31 - Closed
Friday, January 1 - Closed
Monday, January 4 - Regular business hours resume
Thank you for your business, and we hope to see you in 2021.
Happy holidays to you and yours!
-The Opto 22 Family