Major release adds embedded OPC UA server, expanded MQTT/Sparkplug options, SNMP, Scratch Pad data access, and more
Everyone here at Opto is very excited to announce that the latest EPIC firmware update is now live.
Just as you update the OS on your phone to get the latest improvements in security, stability and performance, the OS on your groov EPIC is no different. It is after all, a quad core Linux computer, so updates are very important for the exact same reasons: security, stability, and performance.
And often these updates come with some cool new features. With this release, you'll find several.
It is really tricky to pick which features we are most excited about, but a hot contender would have to be the new OPC UA server embedded right on the EPIC to expose your PAC Control and I/O tags via this tried and tested protocol.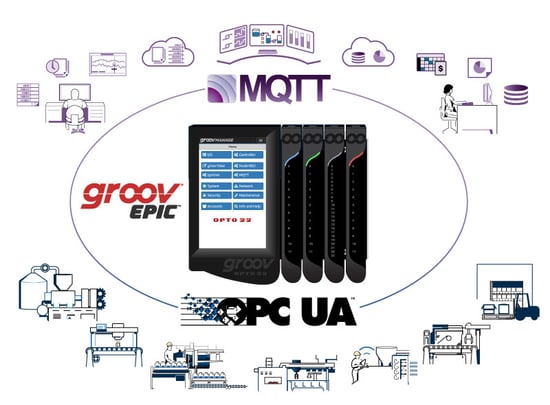 You will find the OPC UA Server configuration under the new Data Service menu option. Here you will also find an expanded MQTT and Sparkplug configuration. And for those that need it, new SNMP options.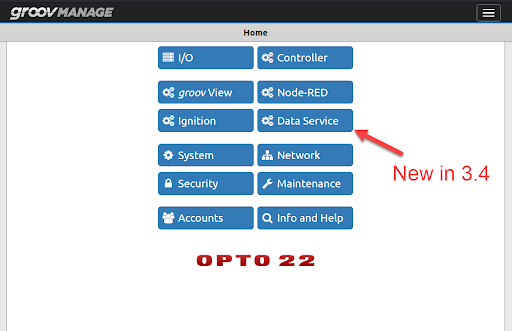 With the new PAC Control & I/O OPC UA server built in, connecting your SCADA and HMI software to your EPIC's PAC Control strategy is an even smoother integration.
What's more is this new OPC UA server is one more option for getting OPC data from your EPIC, joining Ignition & Ignition Edge, CODESYS, and even Node-RED (that's now 4 ways for OPC). And options is what EPIC is all about.
In other data updates, you can also now configure MQTT to send Sparkplug formatted messages to one broker and MQTT strings to another totally different broker.
If you are building your own Sparkplug-based system, you might find the new option in groov Manage Data Services to publish either the Tag Name or the Tag Alias very helpful. The latter is a smaller, more efficient payload, but requires careful tracking of the relationship between the alias and the tagname. This is a task that Inductive Automation's Ignition software does seamlessly, but was somewhat complicated to do outside of Ignition. Flipping the option to Tag Name will make it easier to work with for non-Ignition systems.
If you have been an Opto customer for many years, you probably have used PAC Manager at some point to look at the I/O rack diagnostic data. For EPIC, we have consolidated similar information on a new page that you can access via groov Manage > I/O Services.
Also new in this 3.4.0 firmware is the ability to make data in the OptoMMP Scratch Pad area Public, meaning you can publish Scratch Pad data via MQTT or OPC UA. This will make a lot of people very happy as using the Scratch Pad to move data around has been extremely popular for scores of years now.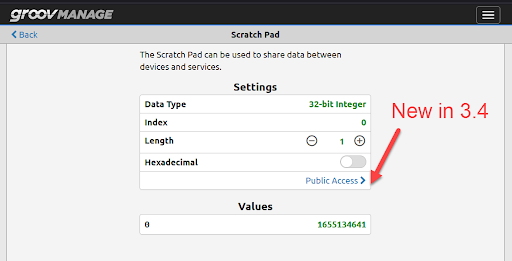 We have had more than a few customers ask for a groov View management page like the existing Node-RED management page, so we added one in this release. Now you can see a lot of specific groov View process information, and restart groov View at the click of a button.
Back to my opening comments about updates providing security, stability, and performance improvements. There are a lot of version bumps in this release as well:
Ignition 8, Ignition Edge 8 and their modules get updated to version 8.1.17.
Ignition Edge 7 gets a bump to 7.9.20.
Node-RED gets an update to version 2.2.2. Be sure and read Terry's blog and forum post to learn more about the cool new features in this version of Node-RED.
Deeper under the covers, the certificates in the root store have been updated. A lot of the Linux kernel packages and libraries have also been updated which means they are now running the latest security updates and patches.
groov View users will be pleased to see some nice quality-of-life additions included in this release. There are new rulers and layout guides, improvements to duplicating gadgets—including tweaks to maintaining their Z-order—and a big facelift to the tag browser.
Another minor but important firmware change to new groov EPIC hardware shipping from the factory: due to supply chain driven hardware changes, we made slight changes that mean this 3.4.0 version will be the minimum installable version for these EPICs.
With each update the groov EPIC becomes more secure and performant, and this release is no different.
You can get the fine details of the update by checking out the README.
As usual, please log into your manage.groov.com portal to grab the update—totally free of charge.
Cheers,
-Ben