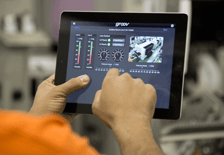 groov 3.0 is available now! And here are two reasons to get excited about this easy-to-use tool for building and viewing your own mobile apps for automation:
- First, new features like events, notifications, and built-in simulated tags
- Second, new platform options with lower pricing for simple remote installations and machine builders/OEMs
New Features in groov 3.0:
Events—Log events you want to track, like temperatures above a certain level, low tank levels, switching to a backup unit, or whatever you need to know about. Check the log whenever you want.
Notifications—You can also send email notifications when an event occurs. If you or a technician needs to respond, set up the event to trigger an email notification. Notifications can be sent based on one or several factors, and emails can be sent to one or more people.
Data Simulator—Now it's easier to try out groov; demonstrate it to someone else; or try buttons, trends, and other gadgets before hardware is set up. You don't have to configure a real device, server, or controller. Just use the built-in simulator tags.
Better page editing—You can drag to select multiple gadgets and move or size them all at once. You can also resize and align gadgets more easily, and show the optional grid.
Find out more about all these features in the updated groov Build and View User's Guide.
If you already have groov...
If you already have a groov Box or groov Server and your maintenance is up to date, you can get the new release for free. Here's how:
Go to manage.groov.com and log in. You'll need your My.Opto22 login and password.
In the Details column for your groov, click Show.
For a groov Box, click the groov App R3.0 file. For groov Server, click the groov Server R3.0 file.
Save the file to your computer.
Install the update. For help, see "Updating groov" in the groov Build and View User's Guide.
If you don't have groov yet...
What are you waiting for? Check out the new groov platforms—there's one that's right for you.
Or get the groov free trial right now and try it for yourself.
---
OptoNews May 21, 2015 - Read more in this issue: