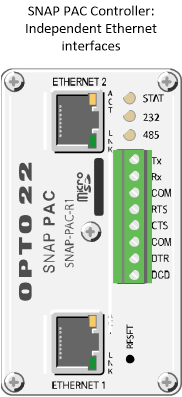 Opto 22 SNAP PAC controllers and brains both have two Ethernet network interfaces—pretty handy. But do you use them the same way? That's the question we'll answer in this tech tip.
Most devices used on an Ethernet network have one network interface with an RJ-45 connector. But SNAP PAC controllers and EB brains each have two interfaces—two RJ-45 connectors.
However, the two interfaces on controllers and brains are designed for different uses.