Small in size but loaded with data and connectivity options.
Hopefully, you caught our two previous related blog posts on the technical details of the groov EPIC Power Module, and the recent announcement of the new groov RIO EMU.
In this blog post, I'll focus on the unique features of the RIO EMU as a distributed power and energy monitoring device, plus so much more.

Pocket-sized Power Monitoring
The RIO EMU has the exact same physical form factor as others in the RIO family, like the MM1 and MM2. While this might not seem like a big deal at first glance, it just might be what makes the difference for your energy monitoring initiative.
Left to right. RIO MM1, RIO MM2, and RIO EMU fit in your hand
Why exactly is the form factor a big deal? How many times have you had to shoehorn just one more bit of gear into an existing cabinet? The equipment may have been in place for years, but now you need to monitor power and energy as well.
The RIO EMU's slim form factor is perfect for this sort of 'just one more thing' retrofit job. DIN rail and panel mount options mean you can add it to just about any existing panel layout or equipment you might have.
Being the same breed as our other RIOs also means RIO EMU has the same two power options: 10-32 volts DC or Power over Ethernet (PoE), making powering the device a breeze.


Significant Installation Cost Savings
Because you land your panel or equipment voltage tap (up to 600V) and your CTs directly to the RIO EMUs keyed field connector, you can potentially save a bundle of labor, time, and electrician costs by not having to run all that wire in a conduit back to a central location. All you need is an Ethernet cable tied back to your network.
With a built-in dual Ethernet switch you may not even have to run a new network cable. If you have an existing network segment in the cabinet or near the equipment, simply jack it into the RIO EMU's Ethernet switch first, then back out of the switch's second port to the existing equipment. With that simple change, your network connectivity is ready to go.
The built-in software is identical to the other RIOs, too. You get groov Manage (of course), Node-RED, MQTT with Sparkplug B, and a RESTful interface just to scratch the surface. So, no need to download, install, and license any software, or find a PC to run it on. Everything you need is included.
RIO EMU is very quick and clean to wire up to your load

Visibility, not Vulnerability
Perhaps one of the most important features of RIO EMU is that you get all the cybersecurity features built into the entire groov family, like accounts, firewall, certificates, and VPN connectivity.
Once you securely log into a RIO EMU with your own created account (no default login here), you can do things like set your time zone, change your hostname, generate certificates, set up LDAP accounts, configure the firewall, connect to an OpenVPN server, and much more. And of course, you use the secure web pages to configure the 64 channels of power and energy monitoring values that the RIO EMU supports.
Just think about this for a moment: all these features are built into the RIO EMU. An energy monitoring unit with a VPN client and a firewall might sound unusual, but the fact is, an OEM that needs visibility into a machine's energy and power usage needs to get that data without exposing the customer to any cybersecurity risks. Gaining visibility shouldn't add vulnerability.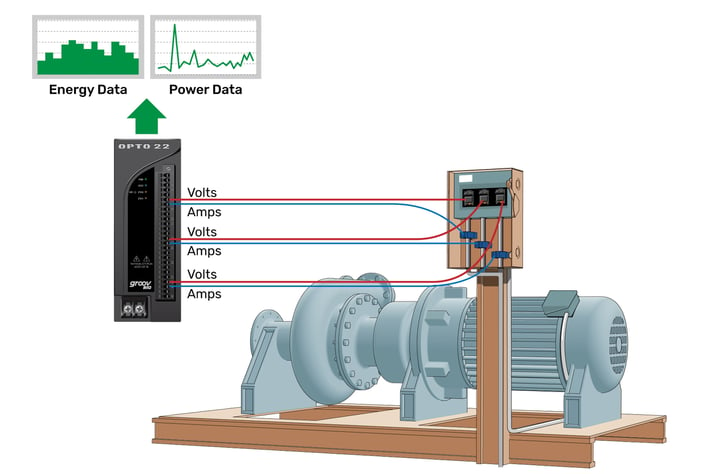 RIO EMU transports energy data securely from the point of use to analytics software, databases, and dashboards


Distributing Power Data
If you want to quickly view your energy data directly on the groov RIO EMU, you can use the built-in groov Manage secure web server and explore the data from any modern web browser on a phone, tablet, laptop, or computer. And if you need a simple HMI, you can build an energy data dashboard with the Node-RED software that is included with the RIO. (Tip: you will need to first install the dashboard nodes).
Viewing your energy and power directly from the RIO EMU is great for commissioning and might be all you need once up and running. But, we suspect most users are going to want to make the RIO EMU's data available to other systems. So, just like all members of the groov family, there are plenty of options for moving your data off device.
Gaining a lot of interest and traction in the IIoT space is the MQTT method. The RIO EMU has MQTT and Sparkplug B built in so you can start publishing your data to an on-site or cloud broker very quickly for other applications to consume.
RESTful APIs are also built in, so your developers can securely grab the data that way too, if that's a requirement.
Node-RED also includes a slew of connection services that might cover your needs via a simple no-code/low-code flow-based web interface that is, again, built right in.
Modbus/TCP is another connection option. The RIO EMU is a Modbus TCP slave device out of the box, and all the data has registers that can be accessed via this widely supported industrial protocol.
These are just some of the many communication options for moving data around and just one of the main advantages of the RIO EMU over other energy and power monitors.
Lastly, if you have not already checked it out, the RIO EMU data sheet is a great place to get a soup-to-nuts rundown on the newest member of the groov RIO family.
Better yet, see it in action! Fill out the form below to request a demo from one of our applications engineers.


Cheers Mate.
-Ben
Request a demo of groov RIO EMU