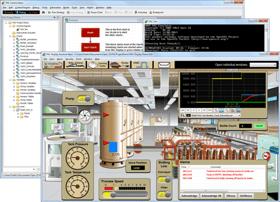 Have you wondered if Opto 22 PACs and the PAC Project software suite would work for your application?
Or maybe you want to demonstrate the software to someone else—say, a customer or your boss.
Here's a great free way to test it out: the PAC Project Demo, now with an additional demo screen and a small library of artwork pieces you can use any way you want to in your own HMI project.
The PAC Project Demo includes everything you need to experiment with or demonstrate Opto 22 control and HMI software:
All the necessary files are included, so you don't need to download anything else. Everything is automatically installed and configured. You can just start the software and explore the demo screens.
Demo screens include both simple and complex HMIs:
Bottling plant—Watch what happens at the back of the factory when 100 bottles are filled.
Catamaran yacht—Try out the controls, but don't sink the ship.
SNAP PAC Learning Center—Use with or without a hardware Learning Center.
Pump—Engage the clutch and change gears.
HVAC—Set heating and cooling to get the temperature just right. Then use these artwork pieces in your own HMI project.
If you have questions about using Opto 22 SNAP PAC controllers and PAC Project automation software in your application, give us a call. Pre-sales Engineering is free.


Call: 800-321-6786 (toll-free in the U.S. and Canada) or 1+951-695-3000
Email: systemseng@opto22.com
---
OptoNews April 15, 2015 - Read more in this issue: