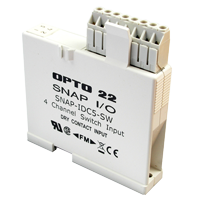 Say you've got a dry contact switch you want to monitor so you know when it's closed. Could be a level sensor or pressure indicator, a magnetic reed switch or snap-action micro switch, or maybe a relay contact.
There are lots of ways you could do that, but often the best way is to use a SNAP-IDC5-SW digital input module. Why?
It supplies 15 volts of power to an external dry contact switch.
You only need 2 wires to connect the switch to the module.
You can monitor 4 switches from 1 module.
Ben Orchard raves about this module in his recent blog post on monitoring water usage, and with good reason: it makes life easier by saving wiring time and complexity.
Two versions of this module are available:
The SNAP-IDC5-SW is for normally open switches and senses switch closure.
Its mate, the SNAP-IDC5-SW-NC, is for normally closed switches and senses when they open.
Let's take a look at the difference between wiring a switch to the workhorse module SNAP-IDC5, versus wiring it to a SNAP-IDC5-SW.
---
Wiring a switch to a SNAP-IDC5 module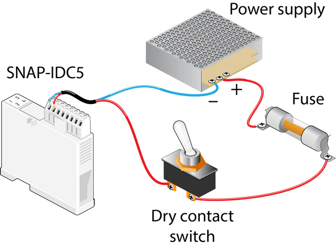 To monitor a dry contact switch with a SNAP-IDC5, you need to provide a power supply. Many power supplies aren't current or voltage limited, so to guard against failure or fire in the case of a short, you also need to add a suitable fuse. Wires must be properly shielded and grounded.
---
Wiring a switch to a SNAP-IDC5-SW module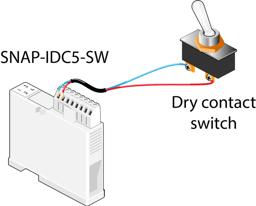 Because the module supplies power to the switch, you don't have to provide a power supply. And because each channel on the module is current-limited to 7 mA, it's safe to to use without a fuse. Wire the switch directly to the module using two wires.
Wiring is much simpler. If you're in a hurry, or if labor costs for wiring are high, this module will help you.
---
Will it work for you?
As always, if you have any questions about the most suitable I/O module for your application, call or email us. Pre-sales Engineering is free.
Call: 800-321-6786 (toll-free in the U.S. and Canada) or 1+951-695-3000
Email: systemseng@opto22.com


---
OptoNews April 15, 2015 - Read more in this issue: