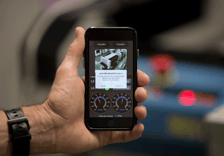 Our last OptoNews introduced the new features in groov 3, just released, including:
Events and notifications, so you can log key events in your system and even send email or text notifications that come right to your phone
Data simulator tags, so you can try out gadgets or demonstrate groov without having to connect to real equipment
Now see the webinar!
If you haven't seen groov lately—or if you'd like to see the new features in action—join us for a short, informative groov 3 webinar on June 10, 2015.
Benson Hougland and Ben Orchard will introduce groov and show you how to:
Easily build your own mobile app
Securely get the data and controls you need
Log events (new feature)
Send email or text notifications for system events (new)
Use simulated data tags to try out or demonstrate groov (also new)
You'll also see application and network scenarios so you can visualize how groov fits in your system.
And you'll have plenty of time to ask questions and get the answers you need.
Webinar: Get your system on your mobile with the new groov 3
45 minutes plus 10 minutes Q&A
Date and time: Wednesday, June 10, 2015
11:00 a.m. Pacific Daylight Time (UTC-7)
---
OptoNews June 3, 2015 - Read more in this issue: