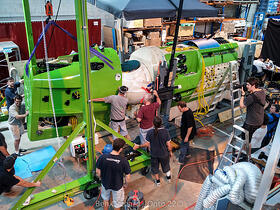 A new series of blog posts by Opto 22 Application Engineer Ben Orchard gives you a front-row seat.
Remember filmmaker and explorer James Cameron's dive to the deepest part of the ocean, the Mariana Trench, just three years ago?
Ben spent 4 months with the Deepsea Challenger team, in Australia, Guam, and at the Trench.
Ben and all of us at Opto were glad to have a hand in this historic dive—the first successful attempt since 1960 and the only solo dive nearly 7 miles (11 km) deep. A standard, off-the-shelf SNAP PAC System monitored and controlled more than 180 systems on Deepsea Challenger, the specially designed submersible that took Cameron safely to the bottom and back again.
And Ben's main job with the team was to help program and fine-tune the SNAP PAC System's interaction with the sub's systems.
In these behind-the-scenes blog posts, Ben talks about the Deepsea Challenger submersible, the team, the system, and the fascinating and sometimes frustrating experience of this adventure.
---
OptoNews March 18, 2015 - Read more in this issue: